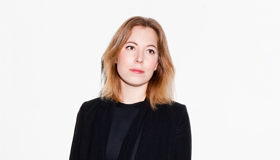 Pauline is a visiting researcher from Eindhoven University of Technology (NL). As a fashion designer specialised in wearable technology, she is interested in the notion of interactivity in fashion. Pauline's vision is based on the belief that technology can add new value and meaning to fashion and has the ability to enhance the way we experience the world around us. By applying Postphenomenology (a strand of Philosophy of Technology) to fashion, she aims to push the role of technology in fashion beyond being functional and instrumental.
By addressing mediation theory from a designer's perspective Pauline aims reveal how wearable technology should be understood as an extension of fashion, both part of the same continuum. Pauline's research is informed by the work brought forward by her design studio (established in 2010), which is continuously involved in a diverse array of projects that span various disciplines, locations and collaborators. Recent projects include garments with solar cells, illuminated sportswear, touch sensitive denim.
In speaking to fellow designers in fashion, interaction design and engineering, she aims to make philosophical thoughts actionable by linking it to strategies that have been applied in her own practice.
Pauline has presented her work in numerous conferences and exhibitions around the world including SXSW, CES, TEDx, IDTechEx, ArcInTex, Northside Festival, Wearable Futures, Utopian Bodies, The Future of Fashion is Now, Dutch Design Week.
For more insights into the array of projects Pauline is involved in:
www.paulinevandongen.com
Linkedin / Facebook / Twitter / Instagram